Last Night at the Blue Angel (Pre-Recorded Audio Player)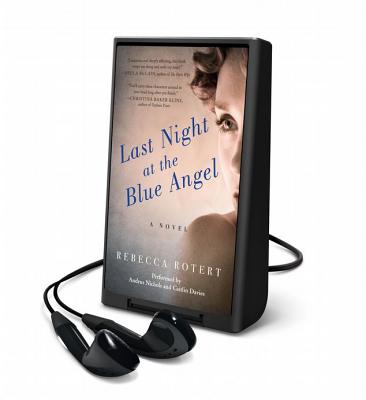 Please email or write store for pricing and availability information.
Special Request - May Not Be Available
Staff Reviews
---
Our Lead Buyer Cathy Langer says:"Rebecca Rotert, the gifted author of the debut novel Last Night at the Blue Angel instantly drew me into the club of those captivated by the compelling, complex and utterly seductive Naomi Hill, a jazz singer struggling for stardom in mid 1960's Chicago. I'm even more of a fan of her 10 year old daughter Sophia, who lives in the deep shadow of her mother and tries to make sense of Naomi's myriad relationships and frequent poor choices. Add to the mix an engaging and incredibly supportive community of a former nun and her cross dressing brother Rita, siblings David and Laura that are both in love with Naomi, and the ever present and lovely photographer Jim, whose spread in Lookmagazine has given Naomi a real shot at making it to the top.Last Night at the Blue Angel brings to life and light the lives and world of people from a bygone era: a time when the closet was requisite, segregation was the norm and duck and cover was practiced in every school. Naomi and Sophia's voices alternate telling this tale, at once a train wreck in the waiting and a heartrending story of the true nature of love and family. As Naomi heads for the spotlight, my heart is with Sophia."
— Cathy Langer in our lead buyer at Tattered Cover with three decades of experience.
Our Director of Marketing for Tattered Cover Heather says: "I was captivated by the voices in this remarkable debut novel. Naomi, the young, single mother with a troubled past and a remarkable talent, who is blinded to the life she has by an unquenchable desire for super-stardom. Her young daughter Sophia, wise beyond her years, yet longing to mean as much to her mother as her career. Jim, the man who loves them both, Sister Eye and Rita, David, Sophia's father, Laura, Naomi's first love -- all caught in Naomi's orbit, and each bringing something wonderful to the story. This novel is filled with music and love, atmosphere and heartbreak, and beautifully crafted sentences that let me lose myself in the story. I was sorry to see it end, though the end was lovely and just right."
— Heather is our marketing director at Tattered Cover & an avid fiction fan
July 2014 Indie Next List
---
"The life of a sultry jazz singer in 1965 Chicago is beautifully evoked in this touching novel. Rotert alternates her narrative between Naomi, the singer, detailing how she got to Chicago in the 1950s, and the singer's somewhat neglected 10-year-old daughter, Sophia. Sophia finds a paternal figure in Naomi's most enduring suitor, the photographer Jim. Their makeshift family, along with a runaway nun, a transvestite, and a Polish emigre, try forge an existence while chasing stardom, but Naomi's past keeps dragging them down. Rotert's vivid descriptions of the tawdry jazz clubs and the deserted buildings that Jim photographs bring a sense of immediacy to this tale."
— Arsen Kashkashian, The Boulder Book Store, Boulder, CO