Life in a Fishbowl (MP3 CD)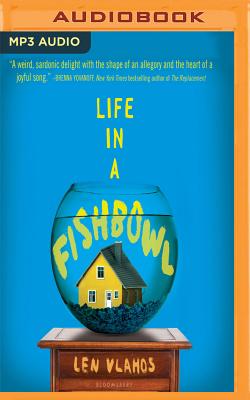 Please email or write store for pricing and availability information.
Special Request - May Not Be Available
Staff Reviews
---
When Jackie Stone learned that her father had a brain tumor, reporters were already clamoring outside her doorway, desperate to meet the man who was auctioning away his life on eBay. In fact, almost the whole world was captivated by the story, eager to understand exactly why Jared Stone would do such a thing. The world didn't need to wait long. A relentless reality TV Show executive bought her father's life. Now, cameras watch her family's every move, in a morbid show known as Life or Death, where Jackie's most personal moments are broadcasted to millions of viewers. But Jackie isn't having it. No matter the consequences, she's determined to put an end to the twisted show, and save her family's relationship before her father is gone forever.
This book is a whirlwind of unfailing honesty on what it truly means to be alive in today's society, wrapped in a heartrending message about how family will always be there for you, no matter what.
— Caylin, TC Teen Advisory Board, Parker, CO
When 15 year old Jackie Stone's beloved father is diagnosed with a brain tumor, Jackie is devasted. When her father auctions his life on eBay and her father's life is turned into a reality TV show in which Jackie is a supporting character, shy and introverted Jackie must rebel to save her father's dignity and right to choose when he dies. This surprisingly funny book features an eclectic cast of characters, each one as interesting as the next. Life in a Fishbowl's messages of family, standing up for what you believe in, and the manipulation of the media will resonate with the reader long after finishing the book.
— Caitlin, Tattered Cover Teen Advisory Board member
Life in a Fishbowl details the life of Jackie Stone after her father is diagnosed with a fatal brain tumor and sells his life on eBay to provide for his family after his inevitable death. This book is fuIl of unexpected twists and turns, and a tearjerker ending that is unforgettable. This book would be perfect for all young adult readers, especially those who like an active plot line. Vlahos' Life in a Fishbowl is enjoyable from cover to cover! 
— Lexie, Tattered Cover Teen Advisory Board member
Description
---
Fifteen-year-old Jackie Stone's father is dying. When Jackie discovers that her father has been diagnosed with a terminal brain tumor, her whole world starts to crumble. She can't imagine how she'll live without him.
Then, in a desperate act to secure his family's future, Jackie's father does the unthinkable - he puts his life up for auction on eBay. Jackie can do nothing but watch and wait as an odd assortment of bidders, some with nefarious intentions, drive the price up higher. The fate of her entire family hangs in the balance. But no one can predict how the auction will finally end or any of the very public fallout that ensues. Life as Jackie knows it is about to change forever....
In this brilliantly written tragicomedy told through multiple points of view - including Jackie's dad's tumor - acclaimed author Len Vlahos deftly explores what it really means to live.